I'm in love with a guitar*. It's the guitar that seems to have been built just for me. I'm talking about the Ibanez Jetking II (first run only). At the time it was launched (2003-2004) I was getting back in to making music for the first time in a good five or six years, and I needed a new electric guitar. So I went on a guit hunt. I knew I didn't want a Stratocaster or Telecaster (as great as they are, I was tired of them) and I've just never quite been a Les Paul kind of guy. I did have an interest in Fender Jazzmaster & Jaguar guitars, since they were Fenders, but they were out of my price range, alas.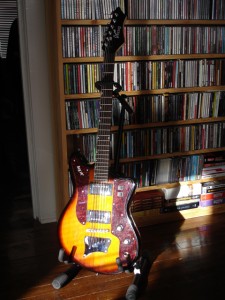 Then I remembered Ibanez. Historically, they haven't produced the type of axe that interested me (too flashy & metal! & aggrofunky), but my first guitarist had an Ibanez strat-equivalent that seemed solid (and affordable, for the 80s, anyway). So I figured I'd check them out. By sheerest coincidence (or perhaps due to cosmic intelligence intervention?) I started looking just as Ibanez launched the Jetking II.
The Jetking I had come out a year earlier and was generally well regarded, but it was not quite right for me (somewhat junky tuners, basswood body, thin neck). The JTKII on the other hand, is perfect. It's got a solid mahogany body, a nice & thick one-piece neck, and solid tuners. Both models feature dual humbuckers that can be coil-tapped to act like single-coil pickups, giving me solid sonic versatility (fender sound, check. gibson sound, check). It's a highly functional, solidly-built, axe that a ham-handed bassist like me can use without struggling. And I love it. The looks are sharp, too. It's a great sunburst with miles of tortoise shell pickguard for that extra classy touch.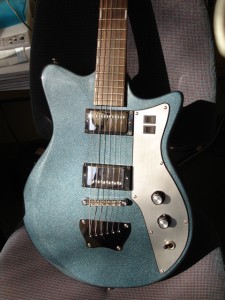 I did wind up picking up a used JTKI as well, in the cool (and somewhat rare) blue color. It called to me from eBay, and though I'm far from being a guitar collector, I really felt I needed to own an original Jetking, too. Call me a sucker if you must.
After the original run of the JTKII Ibanez started mucking with perfection, first by going to lame colors and then by dropping the coil-tapping. In other words, as my friend Gary would say, "They ruint it!" But that doesn't matter at all to me. My Jetkings are, quite possibly, the only guitars I'll ever need. Unless someone wants to buy me a Jazzmaster or a Gibson Firebird…
*This is where I note that I am actually – by training, trade and disposition – a bassist first and foremost. And no object in the world is more precious to me than my beloved P-Bass (more on her a little later on). But dayum, this guitar is awesome.