The SXSW Guitar Show was pretty uninspiring – sure, there were a few vintage Teiscos mixed in with a trite & tiring surfeit of old strats and teles – but one booth in particular caught my eye. Ladies & Gentlemen, I give you… Worlatrons!
See, although I will always be a sucker for the pure lines and poetic simplicity of a Precision bass, I generally like my instruments to have a touch of funky about them. And these guys have that in precisely the right way. Because as much as I like the funk, I don't care one white for the raging, over-the-top LOOK AT ME! madness that some guitar companies engage in. You know the ones.
Actually, one of the guiltiest in my book is Ibanez, and yet they also managed, for a brief time in 2003-2004 or so, to produce my beloved Jet Kings.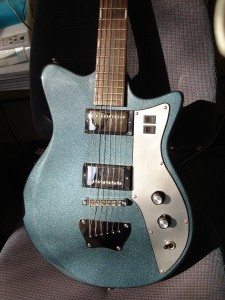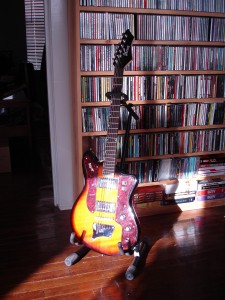 Of course, these babies were throwbacks to vintage Teisco and Ibanez designs and not the typical modern Ibanez flash job. So that makes them even weirder and more wonderful to me. That they also happen to be damn fine instruments – my Jet King II even passed the inspection of my cranky Master Luthier friend Gil – just makes them all the more special.
So while I salute your classic axe styles, in almost all cases I'll take just a dash of funky flavor in my own instruments, por favor. And while everyone knows that look of the instrument doesn't ultimately have any impact on whether the cat playing it is any damn good – I can say that a guitar I'm in love with will sound better than one I feel indifferent about. Looks are only finish deep, of course, but what I'm attracted to is what I want to hold.